Print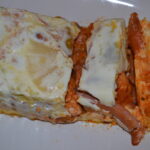 Hardinera
---
Author:

Prep Time:

15

Cook Time:

1 hour

Total Time:

1 hour 15 minutes

Yield:

6

1

x
Description
Hardinera is a popular dish from Quezon province that I learned from my good friend Ruvic Rea from Tayabas, Quezon a.k.a. Rock Diva. Hardinera is a traditional type of meatloaf Filipino meatloaf. This steamed dish is a holiday favourite and can often be seen during fiestas. The Hardinera recipe calls for diced pork cooked in tomato sauce and is very similar to Menudo that will be later formed and steamed to become a meatloaf, like Embotido.
---
Scale
Ingredients
1 kg pork, sliced into cubes
1 cup tomato sauce
1–2 cups water
1–2 tbsp. oil
1 can sliced pineapple cut into 48–10 pcs.
hotdog (4 sliced into strips, 4 sliced diagonally)
6 boiled eggs sliced into 2
10 eggs
1 1/2 bell pepper (red & green) sliced into strips
1 medium size onion, sliced
4 cloves garlic
1 1/2 tbsp. oyster sauce
salt & pepper to taste**
we will need llanera or foil tins for steaming
---
Instructions
In a heated pan, place the pork without oil. Cook it till the pork juice comes out. Continue to cook till it dries up
2. Add the oil and continue to fry till golden brown. Add the garlic and continue to sauté.
Add the onion and continue sautéing till the pork and onion is tender. Then add the tomato sauce. Bring it to boil. Then add the water and simmer it for 10 min.
Add the hotdog sliced diagonally and the bell pepper. Continue to simmer till the pork is tender and the sauce dries up. Once cooked, let it cool down and set aside.
Prepare the llanera or foil tins. Place cling film inside the foil. Slightly beat 1 1/2 eggs and pour it in the foil. Arrange 3 slices of eggs, 4 slices of pineapple, green & red bell pepper and hotdog strips.
Add 1 1/2 cup of pork mixture and squeeze it in . Slightly beat 1 egg and pour it on top of the pork mixture. Make sure it is well covered.
Cover it with foil and steam it for 30 min. Once cooked, let it cool down completely and place it in a plate upside down.
Enjoy! Special Thanks to my good friend Ruvic Rea for sharing this recipe!
---
Category:

Main

Cuisine:

Filipino
Keywords: hardinera, filipino meatloaf